Mr. and Mrs. Claus Boots Pattern
This is a tradition that I grew up with and perhaps could become a part of other peoples traditions, within there family.
Growing up my grandma has these knitted stocking boots that she would hang on the Christmas tree. She would put little chocolate Santa's in them and any time friends or family would come over they could get a chocolate Santa from the tree to enjoy a small treat. I would get one after school or after dinner.
My kids really scored, when we would visit. By this time, my grandma had upgrade the chocolate Santa's to Toblerone mini chocolate bars.
Theses boots below are slightly different then then ones my grandma had, but the concept is still the same. Please as always if you use this pattern and post photos on social media, please put 'Pattern by @CrochetCacheCA' in your post. I would love to see the results!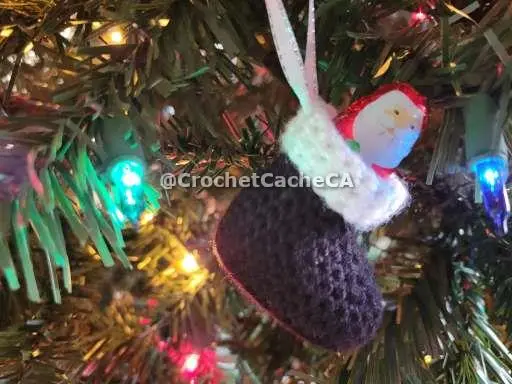 ---
Pattern
---
| | |
| --- | --- |
| | (Red or Black) Chain 12, skip stitch closest to the hook and 10sc, 3sc in the end loop, 9sc, 2sc in the end loop. (24) |
| Rnd 1 | (9sc, 3inc) x 2 (30) |
| Rnd 2 | 30sc in the back loop only (30) |
| Rnds 3-4 | 30sc (30) |
| Rnd 5 | 9sc, 3dec, 15sc (27) |
| Rnd 6 | 5sc, 5dec, 12sc (22) |
| Rnd 7 | 4sc, 4dec, 10sc (18) |
| Rnd 8 | 4sc, 2dec, 10sc (16) |
| Rnd 9-12 | 16sc (16) |
| | Colour Change to White Yarn |
| Rnd 13-16 | 16sc (16) |
| | Slip Stitch, fold the white over the stocking. feed the remaining white yarn through the stocking and tie off. Add some stuffing in the bottom of the boot to keep its shape. |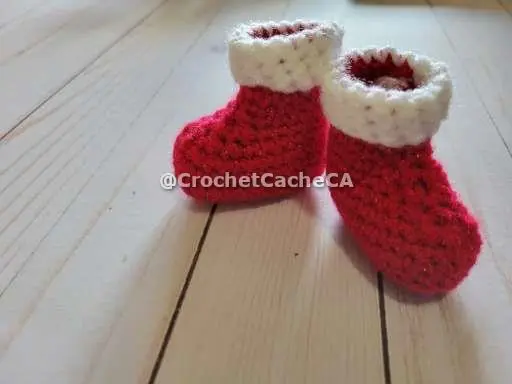 ---
Conclusion
---
Add a hook or tie another piece of yarn at the back of the boot to hang it. The pattern is simple and small. I hope you enjoyed make these and added them as part of your traditions in your family. You can always add your own spin on them and change the colors and of course the treat you put in them. Please let me know if you have any trouble or have and questions.